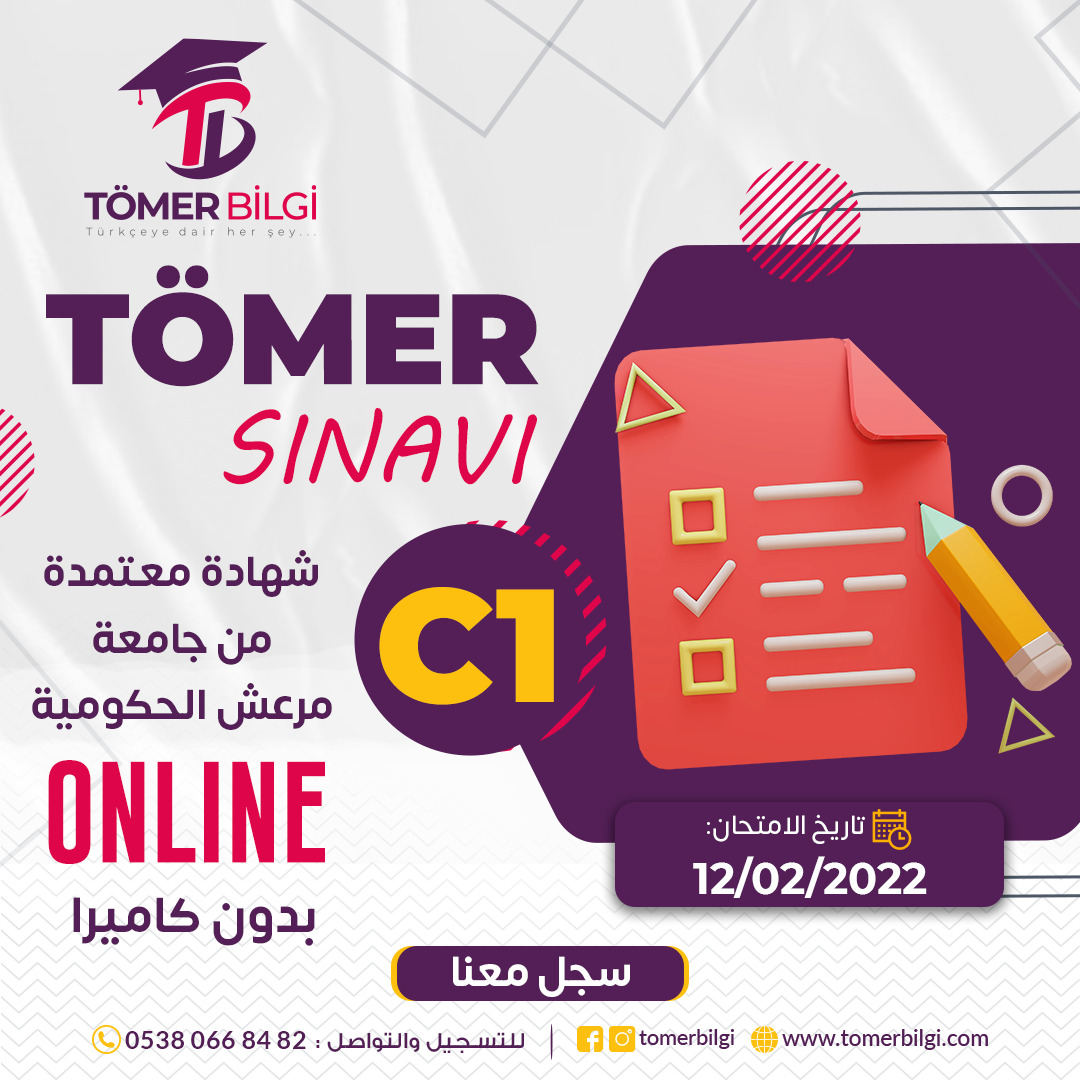 Tomer Exam Marash State University
Guarantee your success with Tomer Balaghi
TÖMER BİLGİ GROUP GIVES YOU A GOLDEN CHANCE TO PASS THE TÖMER EXAM
Online exam and… Without a camera 🎥⛔😱
Yes, without a camera and from your home, a C1 exam from a recognized public university in all of Turkey
And with free pre-exam preparation lessons 💯
Don't miss the chance to get a tomer certificate now
The exam is under the supervision of Marash State University
🎗( SÜTÇÜ İMAM ÜNİVERSİTESİ)🎗
You will receive your certificate immediately after the result of the exam, it will be sent to your address
• Exam date: 12/02/2022
• Exam timing: 10:30 am
• Zoom conversation test on Sunday
————————–
• The exam consists of four main sections.
◀️- Reading 25 questions (exam duration is 35 minutes)
◀️- Writing a topic of 250 words (exam duration is 40 minutes)
◀️- Listening 25 questions, the exam duration is 35 minutes
◀️- Conversation on Sunday (with a camera via the Zoom app).
——————
(Very important notes)
✅ Limit of success in each section is 52 out of 100
✅ The student is not entitled to fail in any of the first three sections, otherwise he is not entitled to enter the speaking examination.
✅ The student obtains the C1 certificate if the score is 60 or above.
✅ The exam is for the C1 certificate only.
✅ Results will be released on Sunday 30/01/2022
✅Government certificate with barcode on it
—————–
📌 For those who want to overcome the obstacle to delay, all they have to do is fill out the form:
Our goal was and still is to be the reason for your success.